Despite the fact I absolutely despise Charline Sheen, I have come to terms that his infamous phase "winning" has inspired my very own blogging trademark day; Winning Wednesday. Yes, I feel a little ashamed but I think we'll all get over it as every wednesday I will present what had made the week a big ole win.
A couple weeks ago I thought I submitted an order online for a three day class I'm taking starting tomorrow *squeel*. Well, when it hadn't arrived by monday I called to have them tell me it never went through and, while I started panicking, they told me to chill and they'd send it on over with free overnight delivery. Aren't they swell?
Amongst the nearly hundred of ebooks I've downloaded online for free I decided to actually pay for one, Water for Elephants. It is easily one of the best books I've read in a while. In fact I'm almost finished with all 300 pages of it in a week. That is exceptionally rare for me. And come Friday, while I'm up north in Door County for said art class, I plan on using the free time I have that night to see the movie at the local drive in theater.
pintrest
This highly addictive sight has been my muse since I first joined it about a week ago. It is the ultimate tool for organizing all that is winning on the interwebs. From the most inspiring photography, clever designs and innovative products, this site has it covered.
This past week Sadie was sprayed by a skunk. Not winning. However, the concoction I stirred up to rid the smell contained hydrogen peroxide which bleached her fur and made her all pretty. Aaand now she's one scandalous
sex-tap
e away from being
Paris Hilton.
That's right. It's official! I know I haven't mentioned much about my studies but that's because they haven't happened yet. After much Frustration with QUT and not being able to get my visa in time I applied to a couple other uni's in the Brisbane area and decided to take the leap and apply here. It is easily one of the top universities in Australia and, I believe, the top 100 of the World! Go me!
And finally for the most important, because with this little guy I can do all these things with impeccable class.
Cheers!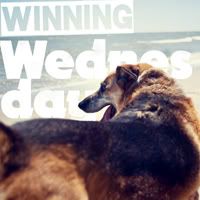 Spread the Wins!

That's right. I'm making this legit with a button.
Next week I might even stick in a Link-up!